The first military contact with the Argentinians since the invasion occurred on Sunday 25 April 1982 when South Georgia was recaptured. This victory was not quite as effortless as it seemed at the time. The weather was tough and we lost two helicopters in an abortive mission to land SAS troops on a glacier.
Taking back the island profoundly shifted the mood. The media disliked being told to 'rejoice', but the voters saw reason to, opinion polling showing a dramatic upward movement in support for the government. That trend only strengthened as military conflict deepened, with the sinking of the Argentine cruiser General Belgrano (2 May) and the Exocet strike on HMS Sheffield (4 May), our first loss.
Within the government, there was deep division arising from US peacemaking efforts, which grew increasingly frantic. MT briefly lost control of the diplomacy on 4-5 May, forced to accept a US plan negotiated between Haig and Pym. She recovered it swiftly when the Argentinians rejected the plan the following day.
Our troops landed on the Falklands at San Carlos Bay on 21 May. The outbreak of full-scale fighting removed most political doubt and division: all but a handful at Westminster agreed the war now had to be seen through as quickly and decisively as possible.
Victory came on Monday 14 June when the Argentinians flew white flags at Port Stanley
1982 april 25:

'rejoice' - the recapture of south georgia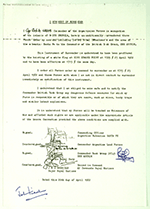 Argentine surrender on South Georgia, 26 Apr 1982
MT kept her annotated copy of John Nott's famous statement announcing the recapture of South Georgia, Sunday 25 April. At some point she was given a photocopy of the Argentinian "Instrument of Surrender" from South Georgia and asked the British commander on the day, Captain Brian Young of HMS Antrim, to countersign it a second time. Admiral Fieldhouse did the same.
Several months earlier there was a curious anticipation of her famous remarks in Downing Street inviting the press to rejoice at that news. On the evening of 28 Feb 1982, she spoke to journalists standing at the same spot on the successful resolution of a hijacking at Stansted airport. She generously praised the police, Home Secretary Willie Whitelaw, etc, and the journalists then began asking follow up questions. "What sort of contingency plans did the Government draw up?", "Were the hijackers ever intimated to them [sic] that perhaps the flight might be stormed?"MT was irritated and replied: "Look. We handled it superbly. … Just congratulate the police, an enormous plus. All told, all round, don't spoil it, in case there might be another one".
There is also a sequel to "just rejoice", from 14 May, showing how difficult and dangerous it could for her to talk about the war with any kind of feeling. After delivering her speech to the Scottish Conservative Conference in Perth, MT returned to the podium and made some unscripted remarks. These had the potential to be misrepresented as glorying in war, but the words haven't quite remained in the public memory, for whatever reason. You can see her almost change direction half way through, realising that she was going wrong (italics added):
What really thrilled me, having spent so much of my lifetime in Parliament, and talking about things like inflation, Social Security benefits, housing problems, environmental problems and so on, is that when it really came to the test, what's thrilled people wasn't those things, what thrilled people was once again being able to serve a great cause, the cause of liberty. They don't necessarily fight for a country because they want more wages, higher benefits, and new international economic order or anything like that, it is because we are a free country.
James Cameron wrote later in the Guardian (25 May): "Mrs. Thatcher tells the Tories in Perth: 'How thrilling! How exciting!'/ I wish Mrs. Thatcher a long and happy life, but I wish she could know what it is like to be on a landing-craft, getting her thrills first-hand", an article carefully filed by the No.10 Press Office. Hugo Young discussed the speech in his biography of MT One of Us ('Final Edition' [1991], p273), where he actually rewrote the quote while leaving it in inverted commas ("When you've spent half your political life dealing with humdrum issues like the environment, it's exciting to have a real crisis on your hands"). In the light of that, Young's claim (also p273) that George Younger told a friend that Perth "reminded me of the Nuremberg rally" probably deserves a sceptical response. But see also Cecil Parkinson's memoirs, which record of this event that Pym "was deeply upset by the tone struck by Mrs. Thatcher and the mood of the conference" (Parkinson, Right at the Centre, p206). Ironically, Jock Bruce-Gardyne wrote the speech.
On Monday 26 April MT was interviewed for BBC Panorama, an engagement in the diary long before the war. Ingham tried on MT's behalf to persuade the BBC to use Robin Day as the interviewer, but he was not working on the programme at this point and the producer, George Carey, understandably insisted on his own choice, Richard Lindley and Robert Kee, neither thought terribly sympathetic. In fact the interview went well enough and there were drinks afterwards for the large crew, which had come to Downing Street to save her the trip to Television Centre. Carey wrote to MT the following day praising her "masterly performance", signing off, a bit oddly, "(m)eanwhile, good luck with the Falklands", as if she was facing stiff competition in a local flowershow. Two weeks later, following another Falklands Panorama on 10 May, Kee wrote to The Times publicly attacking the treatment as lacking balance, and was fired. MT privately described it as "a very courageous letter". Walters recorded her reaction to the later programme: "PM very upset - ITN much better and balanced. Why pay our money to have BBC subverted against us".  
Generally MT seems to have paid less attention to the press during the war than she usually did, being focussed on the war itself. Bernard Ingham notes as much in his book. In her papers one can see that his daily Press Digest mostly went unread. A rare one she did look at, on Saturday 24 April, saw her mark the fact that during his Washington visit (22-23 Apr) there had been "No meeting for Mr Pym with Reagan". Media meetings on Mondays and Fridays were cancelled during the war, and stayed cancelled afterwards, to Ingham's dismay.
Another thing she seems not to have been reading as frequently as usual were poll findings, which came in weekly, a mix of published polls and Central Office's private weekly "tracking poll". (Generally these were put into her "weekend box" for Chequers.) These tell a fascinating and important story. It was common wisdom at the beginning of the conflict in April that public opinion would rally to the flag in the immediate crisis, but that things might well crumble if/when the fighting started. This seemed a reasonable assumption, but quite the reverse proved to be the case. The private polls showing Conservative support were particularly revealing.
There was a small upwards blip in the first week of the conflict, quickly reversed (up from 32 to 34 then down to 31.5 again), then no great movement during the period of the Haig shuttle. The jury was out.
All changed when the fighting began. There a big upward shift in Conservative support, from 31.5 to 37 (26 Apr/3 May, the week covering South Georgia and the General Belgrano). Nor was this trend reversed when British losses began: there was a further big climb the following week, when HMS Sheffield was hit (37 up to 41.5). By the time of the landings, on 21 May, the Conservatives had reached 45 and stayed in the higher 40s until they peaked, at the point of victory, on 49.
MT's personal standing went through similar gyrations, breaking through when fighting started, peaking at 55 approval 16/21 June (net +15 at its best). Foot hit minus 57 at his worst, with David Steel far and away the most approved British politician, consistently in the net 40s.
By 19 September the Conservatives had gained 18.5 since January, entirely at the expense of the Alliance - 8.5 per cent from the Liberals and 10 from the SDP.
Published polls gave strong support for the use of force, though with some qualifications – essentially force used as a necessity.
Although public opinion became much more supportive as the fighting started, the Opposition began moving in the opposite direction at the very same time. MT kept a careful eye. Files on her Commons speech for 29 April show her toning things down, for example removing an attack on Tony Benn. The critics struggled to find a line, Benn himself segueing from the view that "Admirals were in charge now, and Thatcher had lost control" (29 Apr) to the notion that MT had the task force under "political control", a thing apparently equally reprehensible (4 May). (See Benn, The End of an Era: Diaries 1980-90, p217 and p220.) Telegrams from our Ambassador to the UN, Sir Anthony Parsons, briefed her on a visit to the US by Denis Healey, shadow Foreign Secretary, where he saw the UN Secretary-General. Healey convinced himself at one point that the Secretary-General had issued a "grand appeal" for peace along lines favoured by himself, only to be disabused by Parsons. Earlier MT had made a careful study of a BBC interview with Healey on 13 April, and marked for future reference his comment: "I think the important thing is not sovereignty over a bit of soil but the right of British subjects to determine their own future, which is absolutely paramount".
On Friday 30 April she went to a constituency dinner in Bedfordshire for Stephen Hastings MP, staying overnight at his home, Milton Hall. She took a phone call over breakfast, and explained when she wrote thanking him for the visit: "I left knowing that we had a tense day ahead. The phone call over breakfast indicated that the air-strip at Port Stanley had been bombed by the Vulcans successfully. /During the last week - there has been an activity and tenseness I never thought to experience - but this has happened throughout history and it falls to us to make our contribution to liberty under the law".
1982 May 2-21:

the sinking of the general belgrano & its consequences

The decision to sink the General Belgrano was made at Chequers on Sunday 2 May. There is nothing in her private files on that decision, other than a letter from the Army Chief of Staff, Bramall, saying it had been a "great pleasure & privilege to spend the afternoon there", thanking her for "decisive leadership" and "establishing that aggression of this sort does not pay". Perhaps there is note of reservation implicit in this letter, because one might call resistance to aggression the lowest common denominator war aim, vital as it was, and Bramall says nothing about Falklands self-determination or British sovereignty.

But the very considerable fall-out from the sinking is represented in the files. On Tuesday 4 May we presented Haig with a set of our revisions to a US/Peruvian peace proposal, for the first time offering a ceasefire, intended and expected to be seen as a big step from our side. Haig pocketed the ceasefire proposal but largely rejected the rest, on the ground that the Argentinians (and Peruvians) would not accept that the wishes of the islanders should be taken into account, or that there should be any kind of return to British administration. And crucially, for the first time in the negotiation, President Reagan wrote to MT explicitly backed his Secretary of State's proposals, putting her on the spot. HMS Sheffield was hit that evening, lending urgency to it all, the Americans identifying a kind of now-or-never moment - both sides blooded, honour served in a rough and ready way. The Germans publicly called for a ceasefire the same day, and other allies were uncomfortable, notably the French.

The War Cabinet on Wednesday 5 May accepted the US revisions - i.e., abandoned the insistence on self-determination - and a full Cabinet meeting, hurriedly summoned, endorsed that decision and empowered Pym to communicate it to Haig, which he did. MT was evidently deeply dismayed and drafted a long letter to the President. She is almost appealing against her own government in this letter, and against Haig too. She stops short of demanding that self-determination be restored in the proposals, though she clearly hints at it and quite explicitly points out that the proposals do not safeguard the key principles she took to be shared between her and Reagan. In the event, she toned the letter down after consultation with colleagues. And in any case the letter in its final form was sent too late to make a difference, the Americans having already received Pym's message and responded to it.

Reagan made no reply to her letter. Perhaps that is because the Argentinians rejected the proposals - the best they were offered throughout the conflict - the following morning, news she will have received first thing on Thursday 6 May. But if only for a brief time, she had effectively lost control of the diplomacy to Pym.

MT's sense that fundamental principles were involved and needed always to be defended guided her actions throughout the crisis. She had a sharp exchange with Cardinal Hume and others in May when he appeared to challenge the morality of the government's action (MT to Hume, 11 & 17 May). Even the Astronomer-Royal waded in, only to be firmly put right on 10 May: "I cannot agree with you that the illegal occupation of the Falkland Islands is a relatively minor event".
1982 May 21 - june 14:

british landing & argentine surrender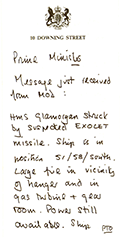 Bad news, 12 Jun 1982
The war entered its final phase when British troops landed at San Carlos Bay on 21 May 1982. MT went ahead with the constituency engagement earlier mentioned. Diplomacy was now pretty much at an end. Periodic proposals for a ceasefire were fended off successfully, even from the Americans, without much internal argument in London: clearly things had to be pushed to a conclusion now, and the sooner the better. Just after the landings MT received warm letters from Lord and Lady Soames, perfectly revealing of the mood at this point. Mary Soames, Churchill's youngest child, wrote: "one has been glued to the news programmes with anxiety, hope - & now mounting thankfulness and natural pride - that Britain can still 'pull it off' … indeed!" The sense of doubt that it could be done had lifted. Her husband's letter is equally full of interest. He had been one of the victims of the September 1981 reshuffle, a 'wet' often assumed to be completely at odds with MT and bitter at his treatment. But at this crucial moment he wrote with generosity and insight:
You must have been much relieved when the moment came to set out the details of our position and theirs [the final British proposal, transmitted to the UN Secretary-General on 17 May and published as a White Paper on 19 May]. I know I was, for yours was more than reasonable and none could ask for more - and thus valid world opinion was locked in successfully. What seemed to me equally important was that there was a veritable chasm between us and them; I was fearful that the Argentinians would be cleverer than that and move to what would appeared as minor differences … in a strange way it is better now that the battle has been joined. It was ever so.
For all the disputes over the diplomacy, it had served to expose Argentinian intransigence, shore up international support and taken the country united into the military phase. MT was immensely grateful to the diplomats who had pulled it off, particularly to Tony Parsons at the UN and Nicko Henderson in Washington. They both retired shortly after the war and there are admiring letters back and forth in the files.
There are fragments in her papers from the fighting itself. MT rejected a passage (from MoD) for a speech on Wednesday 26 May that seemed to take the outcome for granted: "But one thing is certain. The days of the occupying Argentine garrison are numbered and it will not be long before the Falkland Islanders once again have their full democratic rights restored". She debated with Pym and Hurd on 28 May whether to attend the UN Special Session on Disarmament in late June: "She supposed there must be a real prospect that a fair number of delegates would walk out when she began her speech". They successfully reassured her. On 12 June she was handed a slip of paper by a Duty Clerk telling her that HMS Glamorgan had been hit, probably by an Exocet fired from land (an unwelcome first). "Large fire"; casualties unknown. She must have dreaded officials coming up to her with these little bits of paper. There are several similar ones in the official files at Kew. And she was hugely in demand for media interviews after the landing but reluctant to speak while operations were in progress and the situation so changeable - Ingham minuted on 25 May suggesting interviews for BBC and ITN on 29 May. "Your every word would of course be transmitted across the world".
News that the Argentinians had surrendered came in a call from Fleet Command at Northwood at 9pm on Monday 14 June. The files contain her notes on the call and subsequent notes for the Point of Order she moved in the House of Commons an hour later, announcing the news. Tape of that event is on the site - along with all her Commons speeches during the crisis.
Falklands documents (25 Apr - 14 Jun 1982)