1982 june:

14,000 cups of tea and bacon sandwiches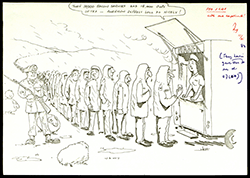 A gift from the CDS, 17 Jun 1982
Chief of Defence Staff Terry Lewin gave her a cartoon at an immediate post-war meeting of OD(SA), a very long line of Argentinian PoWs queuing at a British Army canteen for 14,000 cups of tea and bacon sandwiches. "American Express will do nicely", the canteen woman says. MT carefully noted the donor's name and kept it in her personal files. This was, you might say, the Falklands factor at its simplest - a mixture of relief that the war had ended so quickly and with losses far smaller than feared, on both sides, along with sheer pride at the bravery and skill of British forces. At one point the Chiefs of Staff were working on the assumption of a 25 per cent casualty rate, a figure 40 times worse than the actual outcome.
Of course, there were masses of letters, telegrams and messages of congratulation.
Almost the first was from a former No.10 Private Secretary, Michael Alexander, by then Ambassador at Vienna, who told with some relish how Chancellor Kreisky had been meeting Ted Heath the day after the surrender and took the opportunity to praise her to the skies.
There were messages from heads of government, big and small, from Reagan down. His, though amiable, hinted at future problems. "A just war requires a just peace. We look forward to consulting with you and to assisting in building such a peace. It must of course take into account the sacrifices of your men in battle …" At the other end of the scale, was one from George Price, PM of tiny Belize, garrisoned still by British troops and with Guatemala breathing down his neck. He had good reason to be pleased at such an impressive demonstration of British resolve. She seems to have been especially touched by a long and admiring message from Pierre Trudeau, hardly a soulmate in previous encounters. She kept it in a file along with Rex Hunt's letter of thanks, inviting her to visit him at Government House, Port Stanley.
There was an emotional letter from Lee Kuan Yew of Singapore, whose relationship with Britain was long and complex and whom she much admired.
Henry Kissinger sent a message via historian Hugh Thomas, chairman of the Centre for Policy Studies (Hugh Thomas to MT, 21 June 1982): "He sent his congratulations and best wishes to you, very warmly, adding it would have been a disaster for the West if we had been unsuccessful.//His one substantive anxiety was that the US might try to make us the scapegoat for the failures which their policies in Latin America might appear to be having. He knew of the 'jumbo loan' which the Argentines seem to have been offered. He hoped that "our people" in Washington would soon be meeting to discuss this and avoid a "US backlash". I said I was sure they would be".
Astonishingly, not one European Community head of government sent a message when the war ended. MT will have noticed the omission. We can be fairly sure that they didn't write or ring, because all messages from other heads of government were filed in a series copied to MT, held with her files at the Churchill Archive Centre, and there is nothing.
The only reference to the Falklands from that quarter was a bizarre letter from Giovanni Spadolini, the Italian PM, sent after the Brussels European Council 29-30 June. He had not covered himself in glory during the war from MT's point of view and she was shortly due to visit Rome, so perhaps he was trying to build bridges. It was quite possibly self-typed, judging from the errors: it certainly doesn't resemble the polished communications sent through the official machine, and was filed separately too, probably because it was handed to her in person at the Council on 30 June or left at her seat. "Dear Mrs. Thatcher, remembering our conversation at dinner yesterday evening [in Brussels] I am glad to rejoy with you [sic] for the victory of our football team on the Argentinians. [sic] / Looking forward to seeing you on the seventh of july in Rome for our bilateral conversation, yours sincerely, Giovanni Spadolini". Presumably he meant 'rejoice'. Italy knocked Argentina out of the World Cup, 2-1, on 29 June.
The Revolutionary Democratic Front of El Salvador sent her flowers, and she kept the card, thanking her for succeeding where they had failed. "Since the despatch of the Task Force … 266 Argentine military advisers have been withdrawn from Central America". It was signed "Yours in the democratic struggle". The RDF had a "military wing" which had killed thousands in a terrorist campaign during 1980-81, and we condemned them forcefully while also criticising the government of El Salvador itself.
1982 june - oct:

mentioning the war

An immediate, and enduring, issue was how to talk about the war? MT certainly wanted to draw the moral of the war, as she saw it. She did not lack advice urging her to do just that, and at length, but her conclusion seems to have been a cautious one, to avoid seeming to exploit the war's legacy. Of course, opponents saw it otherwise.

Several friends and advisers warned her that there would be a concerted attempt to tarnish the victory, implying that she would be obliged to respond. Former Conservative MP, John Hope, Ian Gilmour's step-brother  wrote on 27 July: "Of course the people who live under stones are now creeping out to do what damage they can. They always do when it is safe". Her speech to the Falklands dinner on 11 Oct contained a similar thought, more tactfully put. David Hart expressed it too in a long and typically provocative note, the day after the surrender. "Dining with the Fellows of King's last week, to a man, they thought the Task Force should not have been sent". "These moral cowards … will soon start inserting disingenuous thoughts and uncomfortable questions into the national debate". And he urged her to exploit the war "to try to engineer a stunning, military kind of success against a strong union, e.g. the miners". She underlined the phrase. Hart was not wholly on a wavelength with her: at one point during the war he seemed to doubt whether the war could or needed to be won – perhaps it would be enough to sink a big ship or two, repossess South Georgia.

But urging an aggressive exploitation of the Falklands factor was emphatically not the dominant response. Most, especially those in the machine, pushed hard the other way, anxious to check any tendency to 'overplay' things. This was the advice from Bernard Ingham and her Press Office. MT evidently tended towards the cautious side herself, with the odd result that her principal speech reflecting on the crisis was not one of the big set piece events each year, such as the party conference, but was delivered to Gloucestershire Conservatives at a kind of party fête on Cheltenham Race Course and drafted by John Gummer. Odder still, the rally had been set up the year before the war by Nick Ridley, and he was sitting next to her as she gave the best and most memorable statement of the significance of it all for her:
We have ceased to be a nation in retreat.
We have instead a new-found confidence—born in the economic battles at home and tested and found true 8,000 miles away.
That confidence comes from the re-discovery of ourselves, and grows with the recovery of our self-respect.
And so today, we can rejoice at our success in the Falklands and take pride in the achievement of the men and women of our Task Force.
But we do so, not as at some last flickering of a flame which must soon be dead. No—we rejoice that Britain has re-kindled that spirit which has fired her for generations past and which today has begun to burn as brightly as before.
Britain found herself again in the South Atlantic and will not look back from the victory she has won.
MT connected the war to domestic issues herself in this speech, asking "why does it need a war to bring out our qualities and reassert our pride?" An ASLEF rail strike was called off on 18 July and many saw that as mark of the changed national mood, a reduced tolerance for such things. The Department of Transport thought it "a complete surrender by ASLEF" (18 July) and Richard Nixon even sent her a message of congratulation. MT circulated a message to Downing Street staff thanking them personally for the great effort many of them had had to make to get to work during the strike.
She firmly ruled out an early election and when she spoke to the Conservative Party Conference, began by warning them she would not be making a Falklands speech. Although deeply annoyed by the Order of Service at the St Paul's Thanksgiving in July, she told Conservative MPs who wrote to her about it: "I hope you will agree that there is little to be gained by reopening the argument". When she spoke to a dinner of Falklands commanders and political/official leaders in the Cabinet Room at Downing Street the night before the City of London's Salute to the Task Force - one of the highlights of her entire political career - it was decided not to let the cameras in or even to issue a full text to the press. She lauded a "brilliant military achievement, and a great reassertion of national spirit, vitality and confidence. As the Duke of Wellington said, 'There is no such thing as a little war for a great nation'".
The following day, 12 Oct, her top No.10 official, Robin Butler cautiously congratulated himself: "The Prime Minister's dinner last night to celebrate the success of the Falklands campaign undoubtedly gave a lot of pleasure to those who attended it and, so far at any rate, seems to have avoided the many opportunities for giving offence".
Emotional letters of thanks from her guests at the dinner, mostly military, are in the files. There is a missing name though. One person who did not write was Francis Pym, and that is because he wasn't at the dinner. His name was on the original guest list, but for whatever reason, he did not attend.
Falklands factor documents (1982 Jun 14 - end of year)