THE US:

GOODBYE TO REAGAN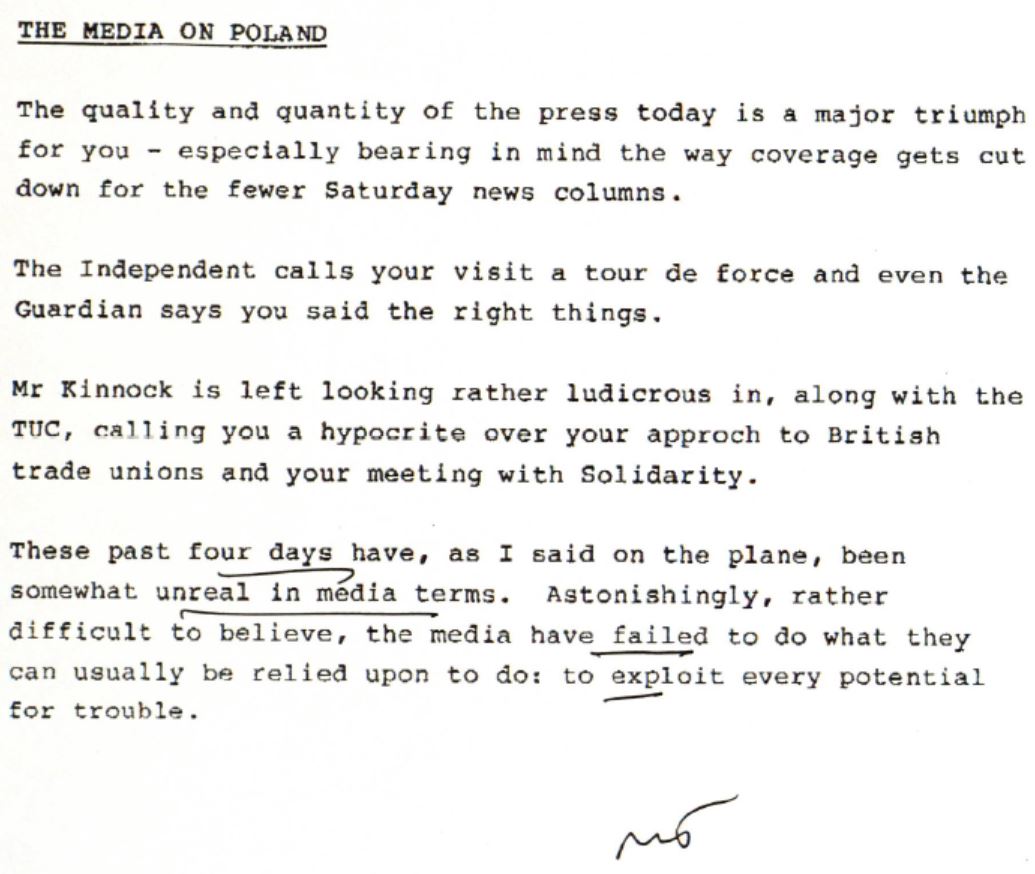 Ingham report on coverage of MT's Polish visit, Nov 1988:
"a major triumph for you ... somewhat unreal in media terms"
MT had something of a sentimental horror of farewells, and there were plenty of them across the years. But none in her career was more significant and difficult for her, personally as well as politically, than when Ronald Reagan left office in Jan 1989. Her greatest ally and political friend was departing the scene, weakening her international clout quite apart from anything else it might do. She made her last visit to the President in Washington in November 1988, as his last official visitor – a well-remarked honour. We release the UK Ambassador's despatch on the visit, which she kept in her home until her death in 2013, as well as some speech drafts. Acland made the usual warm remarks about this "state visit in all but name", claiming that it stopped short of "excessive mutual congratulation" although (rather contradicting that) he quoted one Administration official summarising it all by saying "we love to be loved". There was a day for Reagan and one for Bush, as well as a lunch at the State Department where Shultz gave her a handbag, the emblem of Thatcherite diplomacy. As if to show that he had not gone completely soft, Acland ended with the cautionary note that Congress would need more attention in future. As MT's speech drafts, they show she complained that there were too many Churchill quotes in her White House speech (you can have too much of a good thing), and cut a story about the great man staying there over Christmas 1941, irritating Eleanor Roosevelt so much that she made the US Government buy Blair House as the White House guest quarters to keep him at bay next time. One can see the story might have had uncomfortable echoes for MT, who never stayed overnight at the White House, but sometimes visited more often than some in the Administration would have liked (not the President, of course, ever the gentleman).
Many of the files convey a sense of uncertainty where she would now stand in the US. Given her extraordinary relationship with Reagan, really there was only way things could go - down. Perhaps not coincidentally there were the beginnings too of a new, more difficult relationship between MT and the US press, especially with younger journalists. Ingham several times drew her attention during the year to hostile US press coverage on the 'great dictator' theme, which was particularly marked when the IRA bombing at Ballygawley in August triggered a British government ban on broadcasting words spoken by Sinn Fein spokesmen, forcing the broadcasters to dub their voices to stay within the law.
One curious document we release is MT's "clothes diary" for 1988, a meticulous record of outfits worn, much of it in her own handwriting. The diary shows that elaborate arrangements were made for the Washington visit, as one would expect for an event that was heavy on ceremonial. It also reveals that although George Shultz was about to leave office after almost seven years as US Secretary of State, she had still not learned to spell his name. Nor had she indeed by 1992-93 when her memoirs were written: he is 'Schultz' all the way through the 914 page book. Her researcher was similarly ignorant and must take final blame for the error.
She met the President-elect on this visit and a warm letter came a few days afterwards from the future First Lady, Barbara Bush, who mentioned that her son George W. would shortly be moving to Dallas with his wife Laura, and had arranged to see MT's son there. It must have seemed a small enough detail at the time. MT also kept a Bush Xmas card with a big picture of the whole clan at the family compound in Kennebunkport. George W. was the last US president she ever spoke with, some seventeen years later, when he rang to offer congratulations on her 80th birthday.
Reagan had made his final visit to the UK as President in June and dined at No.10. Their speeches both quoted from Tennyson's Ulysses – a poem raging against old age, defiant and full of longing to start again and voyage anew. It was a poignant choice:
We are not now that strength which in old days
Moved earth and heaven, that which we are, we are;
One equal temper of heroic hearts,
Made weak by time and fate, but strong in will
To strive, to seek, to find, and not to yield.
Another feature of the poem is Ulysses's disappointment with his son and successor, Telemachus, which both of them were to experience also, in the course of time. At this point in fact it looked as if the Democrats might take the presidency, nominee Michael Dukakis running well ahead of George Bush. On 11 July Powell sent her an article from the International Herald Tribune by Senator Sam Nunn, which he described as "in effect the Democratic defence manifesto".
1988 JAN:

AFRICA

There was also a lengthy trip to Africa in January – to Kenya and Nigeria, MT's first visit to the sub-Saharan part of the continent since 1979. This visit had a South African focus, aiming to engage directly with important African countries supportive of sanctions but amenable to discussion. In those terms, they were highly successful, MT establishing that business could be done despite the disagreement and disarming criticism by dealing directly and frankly with opponents. In press terms, however, this visit was a far from happy event. The British High Commissioner in Lagos wrote in the most critical way of the travelling British press corps, calling them 'deplorable' and complaining that they spent the entire time looking for "bones of contention". Unable to find any, they grossly exaggerated a minor scuffle involving the No.10 party at Kano (well, not so minor for Ingham, who got a rifle butt in the stomach). And all this, as the file shows, despite being given free booze by the High Commission, adding ingratitude to their list of faults.

Regarding South Africa, we are releasing an important document from June 1984, namely the briefing cards for, and notes MT jotted down during, her tête-à-tête meeting with P.W. Botha on his visit to Chequers. It records clearly the pathetic excuses he made when she raised the issue of Mandela's imprisonment, at the very start of the meeting. "Transkei takes responsibility" was one, Transkei being Mandela's 'homeland' in the eyes of the South African Government. She will have marked the evasion well.
1988 AUG:

AUSTRALIA

In the summer MT visited the Far East and Australia. The press found themselves with another story about a threat to her security, and this time there was more substance to it. Sinn Fein had sent an executive member to Australia before her visit to stir trouble and in Melbourne, protesters - Irish as well as gay rights - surrounded her party in a small shopping precinct. She was spat on and bodyguards linked arms around her, but police numbers were inadequate to control the crowd and the situation became threatening for a few minutes. Afterwards there were public recriminations between the local police and No.10, but MT kept out of the quarrel. She even took the trouble to write her Australian police minder in Melbourne a nice letter of thanks.
1988 NOV:

POLAND

MT made the third of her highly successful big visits to the Eastern bloc in early Nov 1988, to Poland. Her files show Ingham delighted with the coverage, which was remarkably positive across the spectrum, even left-leaning papers applauding her performance, "somewhat unreal in media terms" as the document above put it, certainly in sharp contrast to that in Africa at the other end of the year. These improbable spectaculars on the wrong side of the Iron Curtain were becoming a Thatcher speciality.

Shortly after the visit FCO Minister of State Lynda Chalker – did she know she had been in line for dismissal in July? - sent MT an account of a twenty minute meeting with the Pope in Rome: "He particularly asked me to pass on to to you his gratitude for your visit to Poland and fall all you said and did there. He commended your efforts in very generous language and believes that your visit will have done a great deal of good. / Needless to say I had a very heartening discussion with him over our efforts in southern Africa and our help to black communities and students in South Africa itself".

Selection of documents mentioned on this page