No.10 contains a whole collection of offices, and alongside MT's personal papers at the Churchill Archive Centre are those of her Press Office, Political Office (essentially party liaison) and Diary Secretary. These have not survived in this way for previous governments, giving us a far greater knowledge of how the place actually worked than we have had before.
1982:

ian gow & northern ireland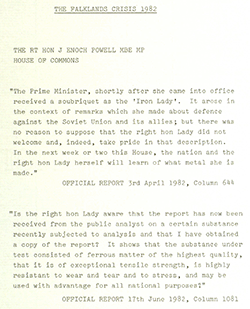 Powell quotes on testing of the Iron Lady's metal
MT's Parliamentary Party Secretary was the MP for Eastbourne, Ian Gow. Gow had been close to Airey Neave, assassinated by Irish terrorists in 1979 (who later killed him, using exactly the same method, in 1990). He was closer still to Enoch Powell, placing him ever more at odds with the government's policy in Northern Ireland. The files show that he mounted a campaign against Jim Prior's Northern Ireland Bill comparable to the one he had mounted against the same minister's Employment Bill in 1980. MT undoubtedly knew of it and even lent it some support. There is an extraordinary note in her hand headed "Ag[ainst] us/For us", dated 17 June, listing many of her cabinet members, with her closest colleagues - plus Norman Fowler (labelled '½') - in the "For us" column outnumbered by the "Against us". Date and context suggest this is the line-up in cabinet on the discussion that took place that day on the guillotining of Prior's Bill. Without a guillotine it would not have passed.
But despite this striking sign of Prime Ministerial support, Gow's position at No.10 seems to have been eroding. His actions began to attract some bad publicity, indeed for one in his position almost any publicity counted as bad. He blamed Ingham in part for this. More fundamentally, while MT may not have liked Prior's Bill, her own policy of developing closer relations with the Republic was no less objectionable to Gow, and of course he resigned when she signed the Anglo-Irish Agreement in 1985. His closeness to Powell may well have been a problem. MT noted adversely a comment by him saying perhaps a little too readily that he agreed with Powell on the need to increase the number of Northern Ireland MPs, and he wrote a revealing note to DT, saying of Powell: "I know that you think that I have an exaggerated regard for him". She was pleased though by Gow's Xmas gift to her in 1982, a framed text of Powell's famous PQs to her at the beginning of the Falklands conflict saying her mettle/metal was about to be tested and the corresponding one after the war, asking if she knew that the test had been completed with a satisfactory result? Powell signed the print and it hung on her office wall for many years. Gow gave him an identical copy.
On June 7 Gow wrote to the Chief Whip ("strictly private and confidential") indicating that he was planning to talk to MT about moving on, adding: "Clearly, any view which I may express to her about myself will be influenced by whomever you would recommend as a successor". Other papers show that he and MT were suspicious of Jopling's advice on appointments: just before the Falklands (17 Mar), Gow told MT "That which you predicted has occurred". Three right wing MPs "had learned with disbelief that you had appointed Garel-Jones as a whip. Dunn points out that since September you have appointed four of the authors of "Changing Gear" [the "Blue Chip" manifesto] to your Administration. (Waldegrave, Lang, Fraser, Garel-Jones).Your friends are saying that if they turn into enemies they would have a better chance of promotion".
Gow became a minister after the 1983 election, as did Jopling, so presumably the advice as to his successor came from his successor. MT never found a replacement PPS she felt as close to or who served her with quite as much affection and respect.
1982 documents on Northern Ireland
1982:

gifts, social life, famous names

The Attorney-General, Sir Michael Havers, invited MT to a flat-warming party at his official residence on 17 February, a splendid apartment at 1 Carlton Gardens. His move there had been arranged by the Prime Minister following the IRA's bombing of his home in Wimbledon in November 1981 and he was appropriately grateful. She couldn't make the party in the end. Why does this matter? It meant that he shared an address with the Foreign Secretary, who had an even grander apartment there. During the Falklands at several crucial points Havers and Pym met to swap views before the working day began, a thing almost natural in the circumstances, but of real significance to the course of events.

On 28 Feb MT went to a centenary re-enactment of the meeting that established the Royal College of Music. This involved a great deal of Sir Humphreyish behaviour as the music-loving Cabinet Secretary, Robert Armstrong, gleefully outwitted efforts by Downing Street staff to protect her time from being pilfered. MT's diary secretary wrote about it all with deep feeling on 25 Feb 1982: "We have been bounced by, I suspect, a combination of the Royal College of Music and the Palace". The half hour appointment took a mere two years to arrange. It was on her return to No.10 after this engagement that MT scolded journalists for their questions about the Stansted hijacking, perhaps suggesting that it had not put her in the best of moods.

The world's greatest housewife superstars met one another at No.10 when Mr and Mrs Barry Humphries came for a private dinner with the Thatchers on 7 March. Barry Humphries gave her a Dame Edna Barbeque apron for "informal lunches at Chequers".

During the Haig shuttle she famously showed the American delegation the portraits of Nelson and Wellington at No.10. Her correspondence shows they had only arrived the previous week, just in time to help her make her point. On 5 April, the other great British naval hero also made a timely appearance: at RAB Butler's memorial service Drake's Prayer was read. "O Lord God, when thou givest thy servants to endeavour any great matter, grant us also to know that it is not the beginning, but the continuing of the same unto the end, until it be thoroughly finished, which yieldeth the true glory; through him who for the finishing of thy work laid down his life, our Redeemer, Jesus Christ. Amen". After the war John Hope wrote reminding her of it: "Well, this is just to express to you my admiration of the way in which you have been true to that spirit of endurance". She used the words herself later in the year.

MT worked pretty much continuously during the war and did very little socially, for obvious reasons. The Thatchers first 'night out' since the spring was to Don Giovanni at Glyndebourne on 11 July with the Michael Richardsons and Robin Leigh-Pembertons; "we loved every minute" her letter of thanks says, and one can believe it. She had recently chosen Leigh-Pemberton to succeed Gordon Richardson as Governor of the Bank of England, but maybe for once monetary policy did not figure in the conversation, or not much anyway. As the adrenalin fell away and she reached the quietest spot of her year - the family's Swiss holiday in late August and her Scotland/Balmoral week in early September - the huge strain imposed by the war was showing a little. "I saw the PM", Eleanor Glover wrote to Gow, referring to a lunch on Friday 10 September, "and she looked so very tired".

Hugh Thomas arranged a big literary dinner for her at his home in Ladbroke Grove at the end of October 1982. She sat down with Philip Larkin, Stephen Spender, Tom Stoppard, Isaiah Berlin, Anthony Powell, Tony Quinton, V.S. Pritchett, Sir Jack Plumb, V.S. Naipaul, Mario Vargas Llosa (and others), a rather overloaded table one suspects. MT seems genuinely to have looked forward to it, unlike a dinner in February 1981 with the Conservative Philosophy Group where she had scribbled on the guest list "perhaps 'whip' will save us!" [ie, by calling her away to vote]. Hugh Thomas sent her afterwards a file of thank you letters, none of them revealing as to the substance of the conversation, Isaiah Berlin's not even mentioning her presence - a measure perhaps of the polite detachment he maintained from MT. Thomas told her in advance of the event that Berlin was rumoured to have voted Tory in 1979, "but I would not dare to ask". She seems to have talked about her coming visit to the Berlin Wall (no relation), because Larkin later told friends that he had told her to stop saying that it was such a bad thing – we don't want a united Germany, do we? But that must have been all he said, because MT's only recorded comment on the meal was that "I was a little worried that Philip Larkin was so silent". Several who couldn't come sent lengthy letters of apology, presumably in the knowledge they would be read by her, Iris Murdoch laying it on a bit thick ("please give my greeting to that brave woman"), John Le Carré much more measured ("I never thought I would find her admirable, but I do somehow. Even though the immediate consequences, at least, are so wretched. Perhaps because I really do believe she is an honest & extraordinarily brave person"). Anthony Powell managed to make three pages out of the event in his published diary, calling it "a kind of seminar … rather like a discussion of various levels of the Joint Intelligence Committee …" [Journals 1982-1986, pp38-41].

After all the quarrels about Falklands tv coverage the Director-General of the BBC, Alisdair Milne, made amends in a small way. He sent her a shrewdly chosen Christmas gift – tapes of classic BBC comedies and dramas Yes, Minister, Smiley's People and The Barchester Chronicles. She wrote warmly on 31 December saying the family had been watching three at a time over the holiday. "All are superb".

There are letters of thanks from her to people who had written about her son Mark being lost and found in the desert. The main file on this was released at the National Archives in December.

 

All 1982 documents in this release

Key 1982 documents in this release

Key Falklands documents from all sources 1982-83, including audio/visual